Water Heater Service For Staten Island & New Jersey
Water Heaters Professionally installed, maintained or repaired by our seasoned technicians. Whether it's conventional gas/electric or tankless water heaters, our awesome techs will assess your home's hot water fixtures and describe the benefits and costs of all options – upfront.
Staten Island Water Heaters
Your water heater is one of the most important aspects of you plumbing system —and it merits the first-class skill and care, and ALL AC AND HEATING INC provides the best hot water heater services in Staten Island. We are a full-service residential AND commercial HVAC company since 1975, we have experience with all kinds of water heaters in Staten Island and in surrounding communities in Middlesex, Monmouth, and Union Counties in New Jersey. From simple parts repair to a full system upgrade, we'll work with you to find the best solution for your home or business requirements.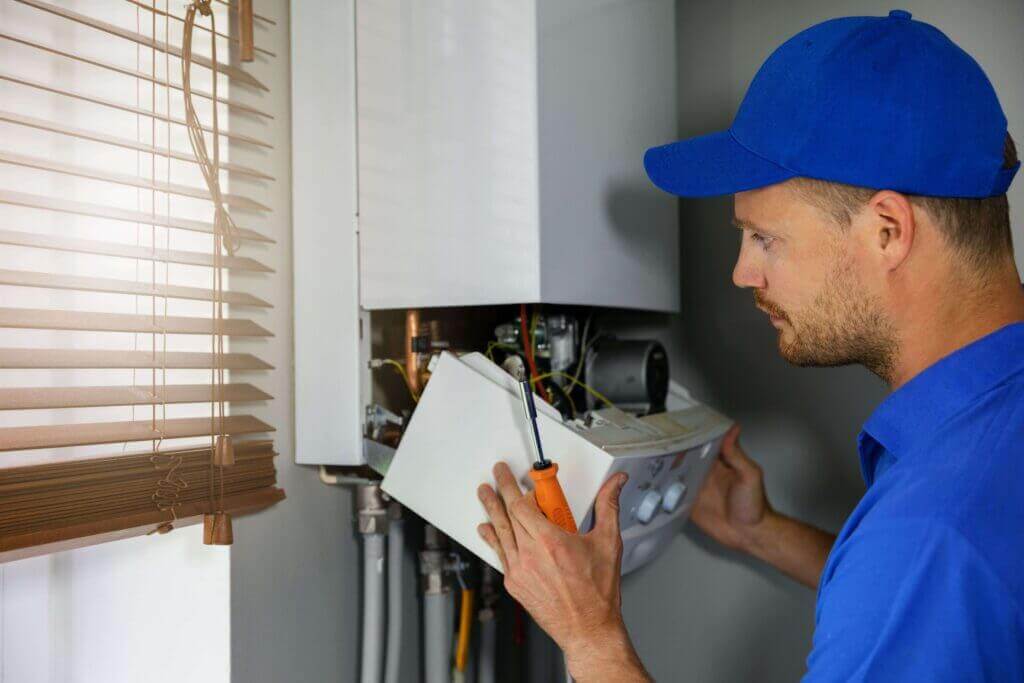 Call on our Staten Island water heating specialists for excellent service we offer:
Water Heater Installations

Gas hot water heater
Electric hot water heater
Tankless "on-demand" hot water heaters

Water Heater Maintenance
Water Heater Repair
Residential and Commercial Water Heater Service
Whether you prefer tankless, or conventional water heaters, we will find the ideal design for your budget and energy needs.
We have team up with premium brands like Rinnai, American, and Rheem to guarantee outstanding quality.
Water Heater Installation
Our technicians are skilled in the installation and repair of heating units of all makes and models.
Water Heater Service AND Maintenance
Professional Water Heater Maintenance and Repairs in Staten Island
With well over 40 years of experience in water heater repair, our expert water heater technicians know how to confront issues of any scale. From malfunctioning pressure relief valves to built-up sediment and leaking tanks, we provide expert water heater maintenance focusing on:
Fast, high-quality work
Honest, uncomplicated pricing
Best "In Class" products from major brands
We will also provide you with tips and suggestions for maintenance of your home or business system in order to extend its effective life!
Replace Your Old Water Heater and Say So Long to Lukewarm Water!
Find out how affordable and effective your new water heater could be by calling us today!
Request a Quote for a Water Heater Repair or Replacement
ALL AC AND HEATING INC is one of the most trusted plumbers in Staten Island. Call us today to speak with one of our trained and certified technicians in Staten Island or to request a water heater service quote by submitting our online form today!
It is important to take these steps when your water heater starts leaking:
Step 01
Turn the unit OFF. Gas – Twist the dial on top of thermostat to OFF
Step 02
Turn the unit OFF. Gas – Twist the dial on top of thermostat to OFF
Step 03
Turn off water supply. Turn the handle on the water valve clockwise until it stops. If it does not move or turn off, shut off your home's main water supply.
Step 04
Drain your water heater. Bottom of your water heater has a drain valve – attach a hose to it and run the other end to a lower area drain. Then, open the drain valve – you may need a tool such as a screwdriver
Step 05
Open the pressure relief valve. Be careful, water may be hot! Flip the relief valve to keep a vacuum from forming as water is draining
ALL AC AND HEATING INC has been serving the community since 1975, so we've come across all issues, and nothing surprises us. We promise you will receive nothing but the highest quality boiler service NYC has to offer. Contact us for all your Air Conditioner and Heating needs. We will respond to emails as quickly as we can. If the issue is time-sensitive, call us in order to get the help you need quickly. We operate 7 days a week, with 24-hour emergency service. We respond to all inquiries, both large and small.
New York
Tel: 718-370-9000 (SI)
New Jersey
Tel: 732-690-1161 (NJ)
New York License Number: 2049939-DCA
New Jersey Home Improvement License Number: 13VH10827000
World Class Brands