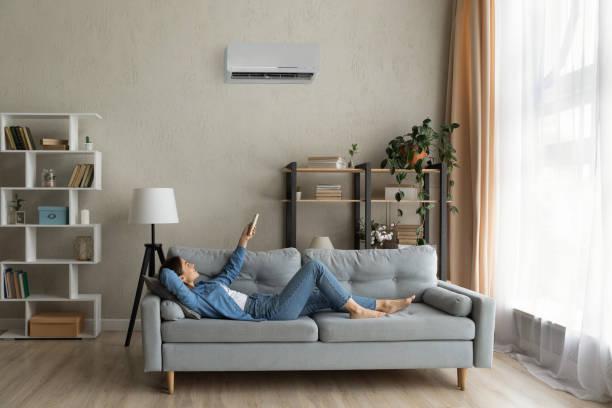 The air conditioning, heating, and water heating services offered by All AC and Heating include installation, repair, and maintenance. Our water heating services use the latest technology, and we provide honest recommendations and the best equipment for service in your Staten Island, New York home or business.
Since 1975, we have served Staten Island, Brooklyn, and New Jersey, as well as been active in our community. We understand the importance of having a heating unit that will keep your home warm and your family comfortable during the fall and winter. You can count on us to provide the right system for your needs.
Air Conditioning (AC) Services Installation
Ductless AC, or a Mini-Split, is a popular AC system alternative to traditional air conditioning. We will inspect your home and recommend the type of ductless AC that will efficiently cool your house. There are many benefits to ductless AC systems, including:
Cold or warm air is evenly distributed
More energy efficient
Easily and quickly installed
No construction is needed
Helps save on utility bills
Environmentally better
Quiet operation
Temperature control is individual, so it cools only in the rooms you want
A mini-split system is typically made up of an outdoor condenser and an indoor evaporator unit. These systems are cost-efficient and do not require construction in homes and buildings without ductwork. Temperature control is individual within each room that is occupied.
Installing Central AC is another air conditioning service we provide. In central air conditioning, cold air is pumped through air vents from outdoor units. The air circulates throughout your home, coming out of all open vents and cooling the room. Sadly, this can be an inefficient and expensive way to cool your home. Additionally, it will disrupt your daily routine and require construction.
Air Conditioning (AC) Services Repair
All AC and Heating provides full-service AC repairs throughout Staten Island. Our knowledgeable technicians will provide emergency 24/7 air conditioning repair services, including:
Central air conditioners
Ductless air conditioners
Wall air conditioners
Air Conditioning (AC) Services Maintenance
We provide a broad range of AC maintenance programs for homes and businesses in Staten Island and the surrounding areas. The life of your AC system can be prolonged by maintaining your units properly. Our maintenance programs will also help keep the costs of repairs down. Our team of professionals will properly maintain your AC system so it operates at maximum efficiency.
As part of our standard program, we will check all aspects of your system, including lines and vents. Problems spotted early can save you from larger, more expensive repairs in the future.
We will evaluate and diagnose potential problems in your system, which allows us to provide you with practical and inexpensive solutions. Our maintenance package provides:
Seal duct leakage check
Refrigerant levels check to capture and/or remove any issues
Checking air filters, replacing and cleaning them as necessary
Coolant leakage testing
Thermostat testing
Tightening and checking belts
Condenser and evaporator coils check
Oil motors
Testing the electronic sequences for control
Maintaining electrical terminals
Join our All AC and Heating Family
When you join our All AC and Heating family, you get access to all our services, including priority installation, repair, and maintenance services. You also get 24/7 availability, appropriate recommendations, clear upfront pricing, and warranties. Call 718-370-9000 for a free consultation. We'll keep you and your family comfortable.
https://en.wikipedia.org/wiki/Staten_Island
https://postofficefinder.org/ny/richmond/staten-island/
https://www.greatschools.org/new-york/staten-island/
https://www.niche.com/k12/search/best-public-elementary-schools/t/staten-island-richmond-ny/
https://www.nycgo.com/venues/staten-island-chamber-of-commerce
https://www.tripadvisor.com/Tourism-g48682-Staten_Island_New_York-Vacations.html
https://www.silive.com/sports/
https://weather.com/weather/tenday/l/Staten+Island+NY+USNY1401:1:US
https://www.accuweather.com/en/us/staten-island/10306/weather-forecast/349714